What you will need:
Sheets of A4 Paper or your Journal and a pen.
At the top of each page write down the name of your ex-partners, placing one name at the top of each page.
We are simply going to stick to the facts:

Write down how you met
Write down how long you were together
Write down how you treated one another
Was love driving you?
Were your morals and values in place?
Did you compromise yourself?
What made you feel uncomfortable when you were together?
Did you make love or have sex?
Did you tell the truth to one another
Did you feel that he/she was telling the truth with you?
Did you progress in intimacy?
Did you feel equal to him/her?
Did you manipulate to protect yourself from getting hurt?
Did you value God, Love, Growth and Intimacy?


When you begin to emotionally connect with the reality of the relationships that you experienced – how does this leave you feeling?
If Love was not driving you, what was?
When I did this exercise, it wasn't comfortable as I began to feel into all the layers of error within me.   What I realized was that only when we are really honest with ourselves, can we be honest with one another.  We are not loving another person UNLESS we are 100% truthful with them.  And that is the same in reflection.  People are NOT loving you, unless they are 100% truthful with you.
When we become adults we often become desensitized to how we really feel when we realize that the other has told us a lie. We may make excuses for them, or we explode in anger.  Where we really need to go is "In", to feel that sadness, to feel the feeling that we are unloved.  We know in our souls that there is no love in the lie.  One day we will have to face that and grieve.
This is the absolute same for us.  We have to feel the emptiness of love within our own lies. Stripping away every reason and justification 'why' we lied or comprised. Be innocent with your feelings…. Connect with God in an emotional way, soul to soul, and begin to pull back the layers of illusion.  Feel the love of your Creator as you gently move through this process.  We can't do this without God's love for us.
Gently, gently move your soul towards God's, and feel the errors we have made about love, loosely dislodge from within us, and be released through our tears.
Supporting your sensitivity and innocence as you journey back home to the arms of God.
Anaiya
---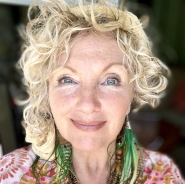 About the Author
Anaiya Sophia is an independent mystic of an almost forgotten faith and a teacher of Kundalini Yoga. She carries an Oral Transmission from the Sacred Feminine Mysteries which she weaves into all her gatherings. This mystical tradition is a continuous lineage with the Feminine Principle that throughout the centuries has preserved its spiritual dignity, without need for permission or recognition from any other source. Anaiya breathes the Wisdom of the Feminine Principle into the transformational processes we long for.
She recognizes the need for Initiation, and uses the vast intelligence of her years to orchestrate those Rites of Passage. Her methods carry the hallmarks of a mystic, so unmistakable in today's sugarcoated world of partial truth and placating love. Her ferocious allegiance to direct experience and radical revelation imparts a wisdom that enflames you.
Anaiya is no spiritual lightweight. She has spent the first half of her life soaking up the Christ teachings of the Sacred Heart and Mary Mysteries of the Holy Body. She now turns her attention to Gnosis - the absolute 'in your face' obliterating truth of Direct Connection!
Her realm of transformation lies within the internal conflicts and influences within us that resist the staggering awakening that lies before us. She beckons us towards the Initiatory Rites and powerful processes that ignite the Permission and Power to Speak Up, revealing our divine remembrance in ways that can, and must be lived. She addresses head on the many challenges that stand in our way and the inner alchemy to overcome them.
Her books include:
Open your Heart with Kundalini Yoga (Harper Collins, 2002)
Pilgrimage of Love (Lulu, 2011)
Womb Wisdom (Inner Traditions, 2011)
Sacred Sexual Union (Inner Traditions, 2013)
The Rose Knight (Lulu, 2014)
Sacred Relationships: The Practice of Intimate Erotic Love (Inner Traditions, 2017)
Anaiya lives in the Occitan region of Southern France with her beloved husband Pete Wilson. They operate a Bed & Breakfast where individuals and small groups can come and stay. All their guests leave forever changed.
Anaiya is able to conduct Baptism, Marriage, Divorce and Death Rite Ceremonies.