As the weeks passed news of woman continued to reach my ears.  Some described her as being a woman of the earth, grounded and natural looking.  They said she was very comfortable in her skin and did not appear or behave in a way one would imagine given to that line of work. 
This news spurred me on.  If I was going to approach such a person, her presence was presenting itself in such a way that whispered 'she is the one' in my ear. 
I gathered the nerve to contact her, to reach out and ask for her time. I had no definitive reason why I called for her.  It was an inner knowing, that this was going to happen.  It seemed as we had pre-arranged our meeting, and all we had to do was show up.
The first time, I cancelled. I backed out.  I was afraid of what this could mean, and where it could lead to.  I had to be even more sure, that she was 100% trustworthy, and more importantly, that I could trust myself.  I had to know that I would keep myself safe, and speak out if I felt things were going astray. The second time, I kept our agreement.
Sure enough, she was a woman of the earth.  No make-up, no goddess clothes, no sexy energy.  She was natural.  She was relaxed.  And she knew, exactly where I was, and where I wanted to go.  I explained that I needed our encounter with one another to be in alignment with my soul and how integrity and skill were of the highest importance.  I asked for a vertical experience, something would open me up to the unknown.  I explained that this wasn't about sex, or orgasms, or how to become a better lover... I simply needed to know - how much more could my body open.  I needed to know what was possible, and whether all these ecstatic states were simply just a myth. 
She smiled with such peace, that I instantly settled, and opened to what was to come.
She knew about breath.  She knew about rhythm.  She knew about pressure. She knew about prayer.  She knew about body locks, mudras and she knew about God.  She kneaded me, stroked me, slid up and down me, activated my spine, expanded my breath capacity, she gave me permission to let go.  She gave me permission to awaken to the earthly forces contained within my body, and at the very last moment, catapult them into glittering, ecstatic whirlpool of my quivering and anticipating soul. 
She explained how she saw my body as an hourglass, and how her one and only intention was to turn my energy upside down.  
In those last and explosive moments, I felt like a pinball being shot to the top of the game, that place where you light everything up and your score goes through the roof! She catapulted me three times.  One for the body, one for the heart and one for the soul. 
Then there was only white light. 
Expansion. 
Fluidity. 
Gossamer thin veils being lifted, and more light,
and more light,
and more light..... and then 
Silence. Deafening Silence. 
Then somewhere in the distance, I could hear a gentle tiny little voice.  Saying over and over again, thank you, thank you, thank you... and then I realised it was me.  I was on my side in a foetal position, rocking myself back and forth... speaking to everything and everyone, but especially her, and especially me. 
So yes, beloved friends, I can categorically say with my hand on my heart, bodies open to reveal the spirit within.  There is a way to do this, and it doesn't have to overtly sexual, or icky and you don't have to hand over your power.  There is a skilled and highly conscious application of being able to do this with integrity at its core.  And this is something this woman is going to pass on to me in August. 
This experience is up there in the number one slot of spiritual epiphanies.  It was shown me what is possible, and where to head for.  It encourages me to open, way past the usual stop-gaps with a man.  This woman gave me the space to find myself in the sexual realm, and show me that spirit can lead the way.  My utmost and sincere prayer is for Pete to experience this too. I know he has been here as a result of the plant medicines he has taken.  But how wondrous it would be to experience this together, and to help others to find this place too.
---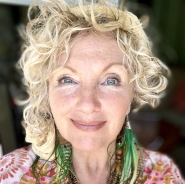 About the Author
Anaiya Sophia is an independent mystic of an almost forgotten faith and a teacher of Kundalini Yoga. She carries an Oral Transmission from the Sacred Feminine Mysteries which she weaves into all her gatherings. This mystical tradition is a continuous lineage with the Feminine Principle that throughout the centuries has preserved its spiritual dignity, without need for permission or recognition from any other source. Anaiya breathes the Wisdom of the Feminine Principle into the transformational processes we long for.
She recognizes the need for Initiation, and uses the vast intelligence of her years to orchestrate those Rites of Passage. Her methods carry the hallmarks of a mystic, so unmistakable in today's sugarcoated world of partial truth and placating love. Her ferocious allegiance to direct experience and radical revelation imparts a wisdom that enflames you.
Anaiya is no spiritual lightweight. She has spent the first half of her life soaking up the Christ teachings of the Sacred Heart and Mary Mysteries of the Holy Body. She now turns her attention to Gnosis - the absolute 'in your face' obliterating truth of Direct Connection!
Her realm of transformation lies within the internal conflicts and influences within us that resist the staggering awakening that lies before us. She beckons us towards the Initiatory Rites and powerful processes that ignite the Permission and Power to Speak Up, revealing our divine remembrance in ways that can, and must be lived. She addresses head on the many challenges that stand in our way and the inner alchemy to overcome them.
Her books include:
Open your Heart with Kundalini Yoga (Harper Collins, 2002)
Pilgrimage of Love (Lulu, 2011)
Womb Wisdom (Inner Traditions, 2011)
Sacred Sexual Union (Inner Traditions, 2013)
The Rose Knight (Lulu, 2014)
Sacred Relationships: The Practice of Intimate Erotic Love (Inner Traditions, 2017)
Anaiya lives in the Occitan region of Southern France with her beloved husband Pete Wilson. They operate a Bed & Breakfast where individuals and small groups can come and stay. All their guests leave forever changed.
Anaiya is able to conduct Baptism, Marriage, Divorce and Death Rite Ceremonies.