Shiva is this moment. The free fall into Truth. The full-blown expose of hungered for obliteration as two become one. The mind exploded into a million, billion pieces as the witness, drowning in love gets to meet their beloved, in an orgy of Absolute Truth. Shiva, the White Light. The Be All, and End All.
The staggering presence of pure penetration. There is no place that He is not. He has found you. All Eyes turn toward him. There is nothing other than this glance. Happening in every moment, in everywhere. Shiva is the Full Stop. The abrupt and inconvenient Truth.
Eyes moist and wide with wonder, quivering rasping breath, clamouring heart, levitating hairs, silence pounding in the ears … hanging on to our last smithereens of identity, he takes another step closer into us and whispers "I Am Here".
And we are Gone.
Falling to our knees, arms outstretched, arcing our backs in imperative surrender, a sound escapes our lips, and it is the cry of our true name. The utterance of this Holy Seed - spills upon the Earth as redemptive blossoms that kiss and caresses creation.
Shiva Embodied. Our full blown realisation of I Am. I Am. I Am.
---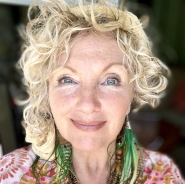 About the Author
Anaiya Sophia is an independent mystic of an almost forgotten faith and a teacher of Kundalini Yoga. She carries an Oral Transmission from the Sacred Feminine Mysteries which she weaves into all her gatherings. This mystical tradition is a continuous lineage with the Feminine Principle that throughout the centuries has preserved its spiritual dignity, without need for permission or recognition from any other source. Anaiya breathes the Wisdom of the Feminine Principle into the transformational processes we long for.
She recognizes the need for Initiation, and uses the vast intelligence of her years to orchestrate those Rites of Passage. Her methods carry the hallmarks of a mystic, so unmistakable in today's sugarcoated world of partial truth and placating love. Her ferocious allegiance to direct experience and radical revelation imparts a wisdom that enflames you.
Anaiya is no spiritual lightweight. She has spent the first half of her life soaking up the Christ teachings of the Sacred Heart and Mary Mysteries of the Holy Body. She now turns her attention to Gnosis - the absolute 'in your face' obliterating truth of Direct Connection!
Her realm of transformation lies within the internal conflicts and influences within us that resist the staggering awakening that lies before us. She beckons us towards the Initiatory Rites and powerful processes that ignite the Permission and Power to Speak Up, revealing our divine remembrance in ways that can, and must be lived. She addresses head on the many challenges that stand in our way and the inner alchemy to overcome them.
Her books include:
Open your Heart with Kundalini Yoga (Harper Collins, 2002)
Pilgrimage of Love (Lulu, 2011)
Womb Wisdom (Inner Traditions, 2011)
Sacred Sexual Union (Inner Traditions, 2013)
The Rose Knight (Lulu, 2014)
Sacred Relationships: The Practice of Intimate Erotic Love (Inner Traditions, 2017)
Anaiya lives in the Occitan region of Southern France with her beloved husband Pete Wilson. They operate a Bed & Breakfast where individuals and small groups can come and stay. All their guests leave forever changed.
Anaiya is able to conduct Baptism, Marriage, Divorce and Death Rite Ceremonies.