In our "fast paced" life style women's period cycles have gone haywire. What is the importance of menstruating with the new moon?
A woman who is healthy on every level (physical, emotional, sexual, mental and soulful) will naturally menstruate on the New Moon or Full Moon. The White Moon cycle is a menstrual cycle that bleeds during the New Moon, whereas the Red Moon cycle is one that bleeds during the Full Moon. Many women's cycles tend to be either a White Moon cycle, a Red Moon cycle, or a Transition cycle where the cycle is moving from one orientation to the other.
The White Moon Cycle according to legend, mystical arts and yogic philosophy is the most preferred cycle for inner work as a woman is naturally pulling her energy in, and able to utilise her vast rich resources for the expansion of consciousness. The White Moon will be linking with her Emotional, Mental and Soulful energies.
The Red Moon Cycle is one where the natural tendency of the woman will flow externally, outwards into her community and circle.  Here is a cycle where the woman is giving her rich resources, and inner, alone time will be at a minimum. The Red Moon will be linking with her Physical and Sexual energies.
To orientate your cycles towards the White Moon, consciously link your womb to the moon in meditation, prayer, journey work and ritual.  Ask for your womb to align with the White Moon Cycle, consciously linking your awareness to bleed on the next New Moon.  It is in fact very simple and easy to do this.
---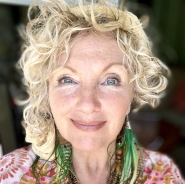 About the Author
Anaiya Sophia is an independent mystic of an almost forgotten faith and a teacher of Kundalini Yoga. She carries an Oral Transmission from the Sacred Feminine Mysteries which she weaves into all her gatherings. This mystical tradition is a continuous lineage with the Feminine Principle that throughout the centuries has preserved its spiritual dignity, without need for permission or recognition from any other source. Anaiya breathes the Wisdom of the Feminine Principle into the transformational processes we long for.
She recognizes the need for Initiation, and uses the vast intelligence of her years to orchestrate those Rites of Passage. Her methods carry the hallmarks of a mystic, so unmistakable in today's sugarcoated world of partial truth and placating love. Her ferocious allegiance to direct experience and radical revelation imparts a wisdom that enflames you.
Anaiya is no spiritual lightweight. She has spent the first half of her life soaking up the Christ teachings of the Sacred Heart and Mary Mysteries of the Holy Body. She now turns her attention to Gnosis - the absolute 'in your face' obliterating truth of Direct Connection!
Her realm of transformation lies within the internal conflicts and influences within us that resist the staggering awakening that lies before us. She beckons us towards the Initiatory Rites and powerful processes that ignite the Permission and Power to Speak Up, revealing our divine remembrance in ways that can, and must be lived. She addresses head on the many challenges that stand in our way and the inner alchemy to overcome them.
Her books include:
Open your Heart with Kundalini Yoga (Harper Collins, 2002)
Pilgrimage of Love (Lulu, 2011)
Womb Wisdom (Inner Traditions, 2011)
Sacred Sexual Union (Inner Traditions, 2013)
The Rose Knight (Lulu, 2014)
Sacred Relationships: The Practice of Intimate Erotic Love (Inner Traditions, 2017)
Anaiya lives in the Occitan region of Southern France with her beloved husband Pete Wilson. They operate a Bed & Breakfast where individuals and small groups can come and stay. All their guests leave forever changed.
Anaiya is able to conduct Baptism, Marriage, Divorce and Death Rite Ceremonies.