Nourish and Nurture Yourself …
..in the wild coastal beauty of North Devon and let yoga wash away the dust of everyday life.
Join us to create some magic Monday to Friday, March 5-9, 2018
Come and join Anaiya and Carolyn as they once again join together and create a magical land to fit into the surrounding wild coastline of North Devon. They will create and guard a scared space for you to make enquiries of your soul.
Using the precise science of Kundalini Yoga, Yoga Nidra and Sophia Wisdom, this Monday to Friday retreat will focus on the 5 elements, or tatwas that make up the human body, earth, water, fire, air and the ethers. We will examine the physical, emotional and spiritual attachments of each one, through Yoga, Nature and Meditation to help us understand who we really are.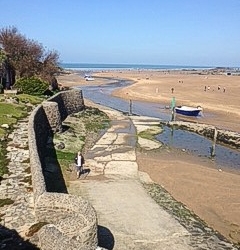 The price of £550 per person, (£450 concessions) will include meals, which will be vegetarian and gluten free, two yoga or meditation classes per day and luxury accommodation in the much-acclaimed spacious Victorian villa, set in half an acre of private gardens and a 5-minute walk from the beach.
Contact Anaiya or Contact Carolyn for registrations and further info.
---
About your Yoga Facilitators
Carolyn Billingham
Carolyn is a Kundalini Yoga, Yoga Nidra teacher and healer. She lives in North London teaching in businesses and private classes. Having combined teaching yoga with running a busy corporate business for many years, she witnessed first hand the effects of stress and insomnia on the mind, body and spirit of colleagues, clients, friends and even herself. Watching many people turn to medication instead of meditation, she has undergone a life changing transition leaving her business to concentrate on sharing this wondrous science and being in a stronger position to better enable people to self care. Taking this care and need to the people who really need it.
Having studied insomnia and stress, Carolyn is also studying Kundalini Yoga therapy with Guru Dharam. Yoga therapy is a way to identify and treat any imbalances and conditions looking at each from a physical, psychological and spiritual viewpoint using the 10 bodies, the chakras, Chinese, Ayurveda medicine and the meridians as a guide.
Through deep rest and self soothing care and uplifting Kundalini yoga, Carolyn brings people home to their true selves.


Carolyn has a way of making yoga approachable for all types of people she can make yoga fun without detracting from the more spiritual side.
—Francesca
Carolyn is a thoroughly kind, warm-hearted person who goes above and beyond to help. Healing is her passion and I can't recommend her highly enough.
—Dawn
Anaiya Sophia
Anaiya Sophia is an independent mystic of an almost forgotten faith and teacher of Kundalini Yoga. She carries an Oral transmission from the Sacred Feminine, which she weaves into all her gatherings, opening those present to the kinds of transformational process we all long for. She has been practising Kundalini Yoga for almost 20 years, and has been teaching this sacred science for 18 years.
Her Books Include:
Open your Heart with Kundalini Yoga (Harper Collins, 2002)
Pilgrimage of Love (Lulu, 2011)
Womb Wisdom (Inner Traditions, 2011)
Sacred Sexual Union (Inner Traditions, 2013)
The Rose Knight (Lulu, 2014)
Sacred Relationships: The Practise of Intimate Erotic Love (Inner Traditions, 2017)
Anaiya lives in the Occitan region of Southern France with her beloved Pete Wilson. Their homeland is a place shrouded in the myths and legends of such ground breaking visionaries such as Mary Magdalene and the mystical legacy of the Cathar's.  As well as romance of the Troubadours and their Vision of Courtly Love. Together in union with the land, they take people on their own Grail Quest into an immersive interaction where an initiation by the Feminine Principle is almost always guaranteed.