Beloved Friends,
Welcome to my September Love Letter, being written in the last days of August, a month jam-packed with back-to-back retreats and other sacred happenings! Beloved Friends,
A rare moment of solitude has appeared in the last days of August, a month that was jam-packed with back-to-back retreats and other sacred happenings! Autumn is already appearing on the horizon bringing a welcome freshness to the early mornings and late evenings. It seems to me the seasonal calendar has changed. No doubt this is just a surface reflection of the enormous change happening deep within Nature at this time. My first question is ??" are we in sync with this change? Are we listening to what these changes point towards?
Speaking of timings on the 24th of August, a group of us travelled to the site where the last Cathar Parfait was burnt at the stake in the Occitan region of Southern France in 1321. As the flames engulfed him, with all of his might he cried out a prophecy that in 700 years "We Shall Return". This date was indeed the 700-year-old anniversary ??" and so once again we have to ask ourselves, "What does it mean to Return at this time?"
Surely we have not returned to find ourselves at the threshold of the End Days, to appear and to then ??" disappear?
Surely there is more, a way 'through' that reveals the answers in the acts of service that are desperately needed at this moment?
Everything appears to be lining up in a timely fashion. Nature and Spirit coming together at a time when we need them most.
The month of September has been earmarked to truly listen to what Nature has to say regarding her cyclic change and to glean the deepest possible wisdom of the Cathar Prophecy, the last known apostolic spiritual descendants of Mary Magdalene and John the Beloved (Lazarus).
Yes, I sense the End Days approaching. Yet in the deepest knowing's of my heart this does not mean The End. And yet, nor does it mean The Beginning, but something else I cannot possibly articulate, but faithfully and without a shred of doubt - profoundly feel.
Receive a 12-month Temple Pass to all past and forthcoming Transmissions and Activations for a one-time payment of £144.
New! Transmissions
The utterance of Wisdom and Word that stirs the remembrance of a continuous lineage with the Feminine Principle that has preserved its spiritual dignity throughout the centuries without the need for permission or recognition from any other source.
The Virgin Speaks
The First Meeting
New Moon, September 7th, 8pm CEST - £11
This NEW series of transmissions is coming through a "Virgin" statue, situated in a particular spot, right next door to the Earth Gate here in Les Contes, at the bottom of Montsegur, in Southern France. What I understand is how the Virgin, is neither the Holy Spirit, or Holy Sophia, or anything that has once been named in these parts, but is in fact, an emanation of the Soul Of Nature in Her fullest force. Nature, it seems, is returning to Her pre-creation virginity, a transmission of Light and Language from Her pristine origins.
There is Wisdom streaming through the Virgin and it's for this moment across the entire world. It is a worldwide message, and is the "Mother Apparition" of our generation.
The Voice of Nature
Full Moon, September 20th, 8pm CEST - £11
This transmission will take you on a very deep journey to attune with the new rhythm of the seasons. I have this distinct feeling our four seasons are changing. Perhaps, we shall see the birth of a fifth season, filled no doubt with natural attunements and enhancements for all her living creatures.
This transmission will edge us closer to becoming compatible with who we need to become in order for us to continue living on this increasingly changing planet Earth.
In the deep solitude of Inner Earth we will discover a Joy and Presence that whispers of what is up ahead, and how we may adjust in order to resonate as She does.
New! NOTRE DAME DE SOPHIA
ONLINE MASSES
Every Sunday at 9pm
Streaming Live (and recorded) from the Notre Dame de Sophia (Our Lady of Wisdom), every mass has a theme and subject that's crushingly relevant to the week's events as they form. Notre Dame de Sophia is a chapel I have restored in the French Pyrenees. Nestled in an emerald green valley below Montsegur (the last Cathar stronghold), this chapel opens its doors to all who seek the Light of the World.
Situated at the confluence of two rivers and beside a holy spring, those who feel a strong resonance with the feminine, especially Mary Magdalene, will discover the rooted centre of her tradition.
Every single penny given will go to the restoration of this chapel.
Register below for your Call-In details and/or to receive the recording.
Goddesses, Holy Women and Mystics Series III Audiobook
£55
Listen last thing at night to these 13 tales, and something incorruptible and ready to blaze will ignite - at a time that can seem so very far from Love, Faith or Light.
Based on real-life people and events, these tales will reveal how Mary Magdalene and John the Beloved set in motion the birth of communities rooted in heretical liberty across Europe. Come to know the key players and sequence of events scrubbed from our history that still to this day are hidden and forbidden to honour.
This 'must-have' audiobook will take you on a remarkable journey, where memories, aspects of self, and deep knowing will surface and bring the resources, fortitude and determination to continue on that you never knew you had.
Also available in this series...
New! FROM LES CONTES
Saints, Angels and Holy Ones:
Mysteries of Les Contes
7th ??" 28th November - £75
For 22 nights we will receive the stories of the 22 saints, angels and holy ones connected to Les Contes, an astonishing house, (old colonie for school children) at the bottom of Montsegur.
Every single one of these names belong to either a saint, angel or holy one who have strong associations with children, and their own child-like-ness. These stories are extraordinary and the ambiance they create when living here is heavenly. Their collective innocence brings forth an incorruptible field laden with possibility and courage.
My heart's desire is to extend this energy to you. This is a collective presence here, made up of all of these energies, and it has not yet spoken to me as the whole, but as these 22 beings. It is our wish to extend this message to you at this time.

Stories from St Anne, St Bernadette, Mary Magdalene, Sophia and Francis of Assisi, and much more!
New! Anaiya's Wardrobe T-Shirts
All garments are hand-made and printed in the U.K. using 100% biodegradable, water-based organic inks on 100% cotton teeshirts and hoodies.
We Shall Return
Light of the World
Notre Dame de Sophia
NEW! SOUL SCROLLS with ANAIYA

My Dearest Friends, for one hour, I will sit beside Our Lady in her grotto next to her Earthgate. This Earthgate is one of thirteen Merkabah's that have been purposely positioned in the planet's main sacred sites; this particular one attunes itself to Montsegur, the solar temple in the South of France.
Some words cannot be spoken because the sincerity required for such a moving discourse is rare and even more challenging considering the times we are in. And yet, something so precious wishes to be said and to be made tangible. Something for you to read, hold, smell and cherish.
All my life, I have prayed, spoken, listened and written down the words from 'some other place', the place, as a child, I called Heaven. The words that, as an adult, I call grace. But now, moving here, that voice has been made magnificent and astonishingly simple and true.
Words of wisdom poised and elegantly shaped to quicken the deepest rivers of your soul. To stir, recollect, reveal and of course, heal, heal like nothing else ever before. Words intrinsically coming from the source of all love to bring you to that place where you realise who is speaking to you - is achingly close - because it is time. It is truly time to receive these words into your hand, to sleep with them, to fold into your diary, to hand down to your children and to engrave upon your heart.
Handwritten on parchment, placed inside a fragment container and posted to you, with a native flower that contains your ancestral (Cathar) blessing. Something that you can keep for your lifetime, no doubt re-reading it and always discovering something new.
Soul Oracle Deep Dive - £55
Recorded and sent to you via email.
Plunge into your Soul with Anaiya, as she takes you on a journey into the absolute beauty and fierce love that You Are. Through her recorded voice, sent to you via email, she acts as Oracle, surrogate and mid-wife between here and there. She communicates divine guidance for this here and now moment, If you are asking for a deep, immersive communion, a soul-to-soul transmission, a message from the shrine of your heart - then this avenue would serve you very well.
You are invited to share a photo(s) of yourself, along with a voice recording as an addition if you like. Please send onto anaiyasassistant@gmail.com.
Once received, we will confirm with you, and your recording will currently take up to 21 days for delivery.
Soul Oracle - £55
Personal session with Anaiya, online via Zoom.
You may prefer an in-person session on Zoom: Anaiya will work more on an everyday basis. Speaking to the many reasons you are here, addressing no doubt the challenges you face and the medicine you bring.
Anaiya often offers a couple of transmissions and 'homework' as an aftercare gesture.
Once booked, we will be in touch with you to confirm a date. Please email anaiyasassistant@gmail.com for any queries.
A long, long time ago, there was an ancient tradition of women who worked with sacred oils for the highest good of All. These women were called Myrrhophores, also known as myrrh-bearers or mistresses of the oils. They were priestesses of an even older order whose soul medicine is returning at a time similar to their own. From Magdalene to Sophia, from Holy Womb to Sacred Sexuality - choose from 14 qualities.
New Oil!


Esclarmonde: Light Of The World - £33

This brand new oil has been created based upon the predominant native flowers in the Occitan region of Southern France. Esclarmonde is the name of the High Priestess of the Cathar tradition, the apostolic line of spiritual descendants from Mary Magdalene. This sacred oil will take you back, and into the Wisdom you once held at that time.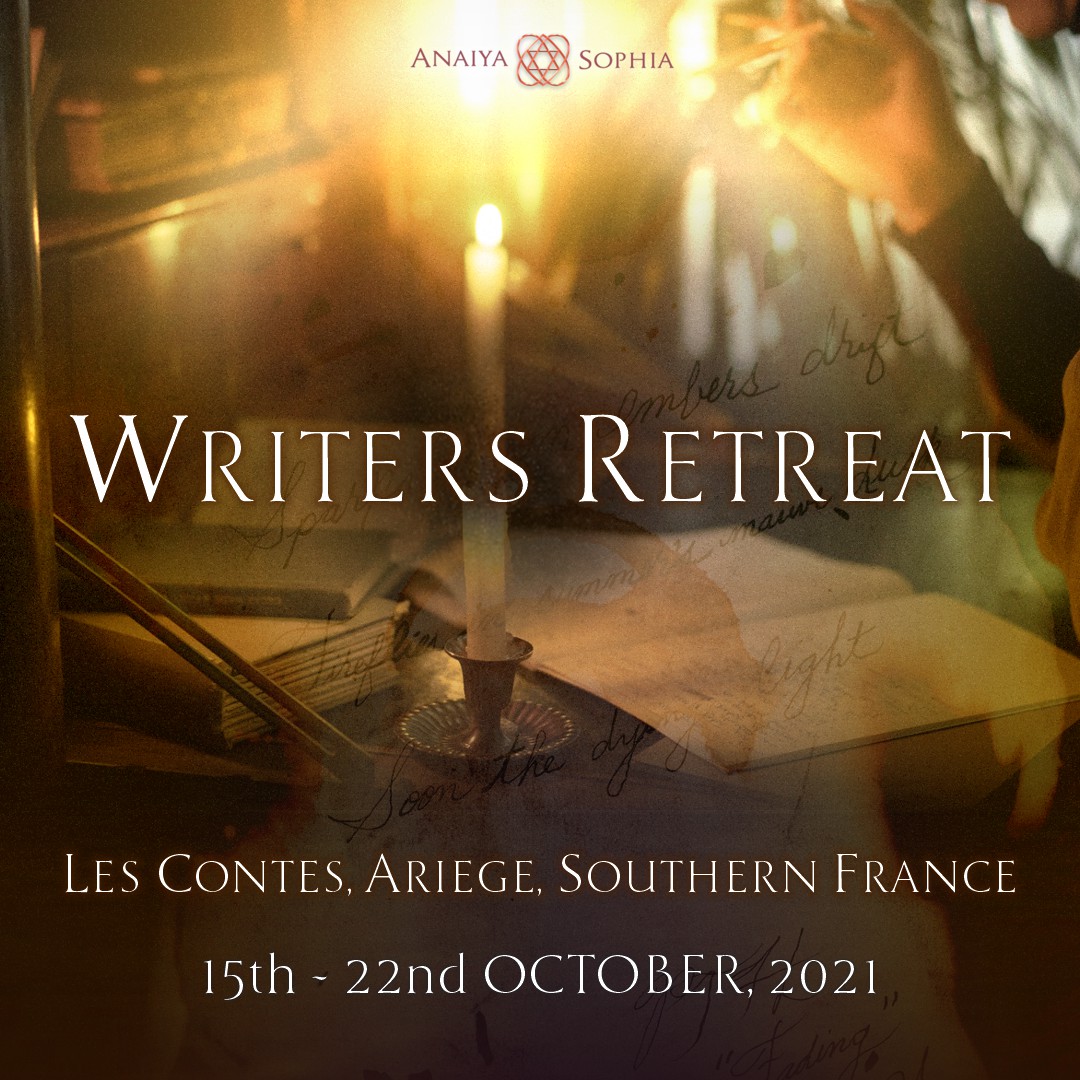 Wordsmiths, Scribes and Storytellers Retreat
15th - 22nd October, 2021
This writing retreat is for writers, authors, poets, scribes, bloggers, screen, and songwriters, who need a creative haven to find their inner voice, develop their craft, and begin or complete their story. Uncertain times bring along with them a lot of uncertain plans. While we can't predict what the future holds, maybe venturing outside the city and crowded areas can finally be the cure for our writing problems. This is where Les Contes in the French Pyrenees comes in. Within our seven days together we will be creatively reborn! That I can assure you. It is time for Wordsmiths, Scribes and Storytellers to gather - to make sense of this evolving age, leaving behind nuggets of herstory that are accurate, true and resonant of our times.
Experience the transformative power of the French Pyrenees a place dedicated to a continuous feminine lineage that the mountains have known forever. This place is shrouded in Myth, Legend and Lore and only too happy to support our creative endeavours. Relax deeply in the ancient practises of Yoga, Sacred Oils, Prayer and Natural Rejuvenation as we release physical and emotional blockages with Malika Yoga, a form of yoga I have developed to re-connect with our true voice and tap into our inner wisdom through writing as we re-energize ourselves in the vibrant environment of Les Contes.
Being an author myself we will be working with the Sacred Union blueprint. Enhancing and allowing our feminine intuition, creativity and imagination to flow freely, while also strengthening and committing to the masculine elements of discipline, self-motivation and planning. To birth anything into the world, we need the power of our masculine and feminine selves.
Our days together will be made up of Yoga, Storytelling, two writing sessions a day, walking in nature and developing our sense to really, see, hear and touch the invisible, and then be able to articulate and express it - in such a way that others are transformed. Every day we will go deeper, as we let go of the constraints and concerns of daily life as we step into the 'otherworld' where the voice of inspiration speaks to us, the well of creativity opens as our sacred work reveals itself in astonishing clarity and ease of expression.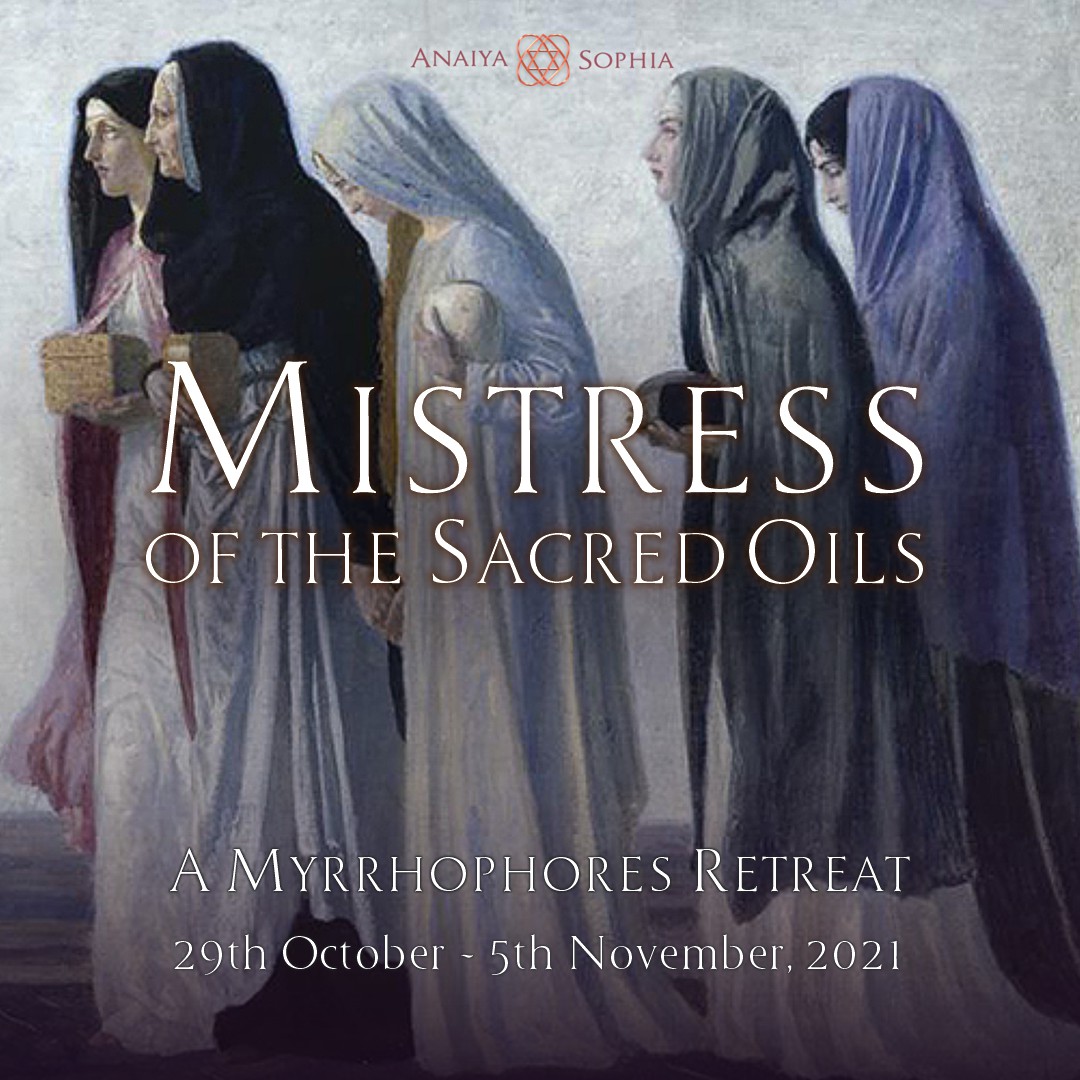 Mistress of the Sacred Oils
29th October - 5th November
A long, long time ago, there was an ancient tradition of women who worked with sacred oils for the highest good of All. These women were called Myrrhophores, also known as myrrh-bearers or mistresses of the holy oils. This myrrh-bearing tradition has its earthly roots in the ancient temples of Egypt, Babylon, Syria and the Holy Land and is kept alive by practitioners today. Mary Magdalene was a Myrrhophore. Isis, Cleopatra, Hatshepsut, Julian of Norwich, Hildegard of Bingen, Catherine of Siena, Nostradamus the names are many, yet the tradition is one.
Mystics and Myrrh-Bearers are one and the same and would use the oils to heal the wounds of the soul and to work as a spiritual guide for those passing over to the other side. This 8,000-year-old Mystery School Tradition may be calling you. Following the Sophia, Isis, Mary Magdalene lineage, we will use oils to heal soul wounds, heal the light-body, to work as a soul midwife, psychopomp and shapeshifter.
During our week together we will wander back through the halls of time as we remember our much-needed soul medicine for this time.
This week-long journey is £940.00 and will be held in our NEW! home in Southern France that has a Chapel, Spring and Cave at the bottom of Montsegur. You can also pay in cash on arrival.
Lilith and Eve - Healing of Female Duality
6th October, 2021 - Prague, Czech Republic
Dear women, with great humility and gratitude we bring you another online meeting with the mystic and priestess Anaiya Sophia. She has dedicated her entire life to the art of temple and guiding her neighbors on the path to another and to love.
The theme of this one day workshop is deeply inscribed in the life of each of us - the age-old inner struggle between a good and a bad girl, personified by the female archetypes Lilith and Eve. This polarity is still taking place in the hearts of all women here on Earth. One moment Lilith speaks to us - powerful, forbidden, untamed, sexual, creative, wild and free, and the next moment we become Eva - sweet, caring, tender, loving, innocent and pure.
This workshop will be presented in English and Czech.
Our NEW place (Les Contes) is where you will find Notre Dame de Sophia, Seeds of Wild Love, Yoga Haven, The Pump House Cafe, Ye Olde Mystical Bookshoppe, Rockstars Animal Sanctuary, as well as our 'Out of this World' Bed and Breakfast.
WE ARE OPEN
and welcoming guests!
The house has 19 bedrooms, so your safety and comfort can be guaranteed. We consider ourselves to be a COVID friendly environment with private bathrooms and plenty of space. We shall go the extra mile to ensure your safety and keep our numbers low.
Any time is a great time to come visit! The invitation is to drop in with our Cathar way of life. Greeting the beginning of each day with yoga, prayer and meditation, and closing it with acknowledging all the gifts that came. Staying at Les Contes would bring considerable plentitude to your heart and soul. The pace is slow, spacious, peaceful and magical. There is a gushing spring, caves, labyrinth, riverside walk and mountain to climb! Not to mention the ever-growing troupe of Rockstar animals.
Our vision is for Les Contes to hold the essence of Cathar life. A place where you can stay and taste the lingering flavour of what was, is, and ever shall be.
We could also be your guide for the day, taking you to some of the sacred sites or perhaps walk with you through the ancient network of pilgrim routes and Cathar pathways. Maybe an overnight stay in a cave is more of your calling? Or a day with Anaiya, diving into the immense healing available in this region.
And don't forget to check out our Sacred France: The Other World video - click here
My dearest friends, thank you for reading until the very end. I do hope we get the chance to welcome you here - this safe haven of beauty.
With an Open Heart, Full Trust and Learning to Live this New Way,
Anaiya xx