Beloved Friends,
WELCOME to my October Love Letter, which is wholly devoted to the passion of Love.
Sometimes we can forget just how powerful, destructive and creative Love can be. Throughout history, couples in love have caused wars and controversy, created masterpieces in writing, music, and art, and have captured the hearts of the people with the power of their bonds and the vision they shared.
Let us not forget in these unknown times, that there are many of us, working away in the unknown hours, creating grass-root ideas, solutions, creations, healing and blessed gatherings.

TEMPLE PASS
Receive a 12-month Temple Pass to all past and forthcoming Transmissions and Activations for a one-time payment of £144. This gives you access to all the transmissions I have ever created (well over 200) and all of the coming year's NEW work.
NEW! - TRANSMISSIONS
Healing the Wound
From The Counterfeit Twin
Full Moon, October 1st, 8pm (your location) - £11
There are two Full Moon's in October this year, offering us a perfect entry point into some profound and precious work. The first one opens us to the most perilous ache that lingers after meeting a Counterfeit Twin. A Counterfeit Twin is a person who triggers within us an intense openness to a wholly new kind of love and then leaves. Or we leave them.
This gaping loss feels too much to bear and impossible to heal. Instinctively we cast a gossamer veil over our wound, which almost always is within the heart and affects our breathing. This wound is the most precious wound we could ever receive. It is the gift of the Counterfeit Twin. For some of us, the blessing of this wound is the last initiation before truly experiencing the immortal bliss of profound union with our appointed other. It is the last place we want to go, but the only place that is left unattended.
Read more and register here:

Click here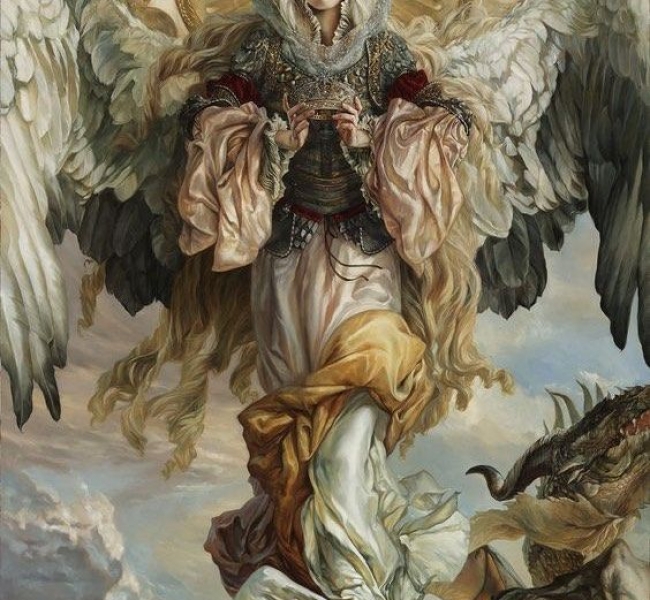 Sovereignly Summoning
New Moon, October 16th, 8pm (your location) - £11
Following on from the last transmission, and this month's Words of Wisdom, this transmission would be the one to receive next.
Feeling supported by this potent New Moon, we will responsibly attune to all our 144 Soul Reasons To Go On (friends, allies & guides) and Sovereignly Summon our appointed one. From a place of pure worthiness and accountability. Because, for many of us, it is merely time.
Gone are the naive, romantic and ungrounded ideas, and in their place stands a mature and wise soul sending out the beacon for orchestration of agreed-upon proceeding. True wisdom has soaked into our bones, and happy are we to summon genuinely.
Read more and register here:

Click here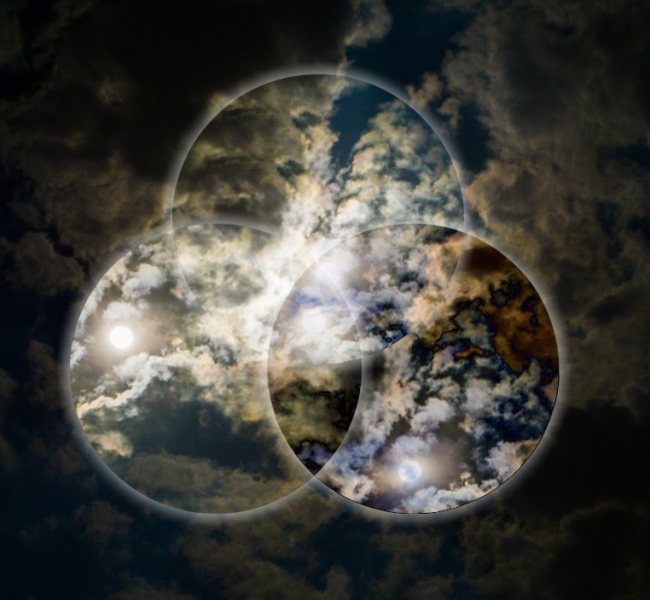 Three Nights of Mystery
All Hallows Eve, October 30th, 31st & November 1st - £33
For these three powerful nights, let's call to our ancestors, allies, angels and elementals to be with/in us, in ways that we can truly feel, hear and see. Let us summon these dark nights to bring the gifts of radiance, incandescence, illumination, beauty and worthiness. This year's Halloween falls on a Full Moon, and the last time that happened it was 1944. I sense - this is a potent time for some very genuine assistance and the bestowal of unknown things. It seems this is a turning point, and after all the other offerings of this month - a prime way to seal it in.
Read more and register here:

Click here
NEW! NOTRE DAME DE SOPHIA

Magdalene Mass
Every Friday, at 9pm CET
Notre Dame de Sophia. Our Lady of Wisdom.
Streaming Live (and recorded) from our Occitania home, and soon - NEW home closer to Montsegur! Notre Dame de Sophia (Our Lady of Wisdom) will be a Mass where the Great Divine Feminine Presence will be felt, and presented in such a way that we all receive and 'remember'. Every mass will have a theme and subject that is crushingly relevant to the week's events as they form. Friday, is the day of Venus, according to the Kabbalistic tradition, and so, this is our day to draw down her holy spirit and the mantel of her wisdom, to gather, the way we used to, by spring and in the forest, to bless one another and wish us peace.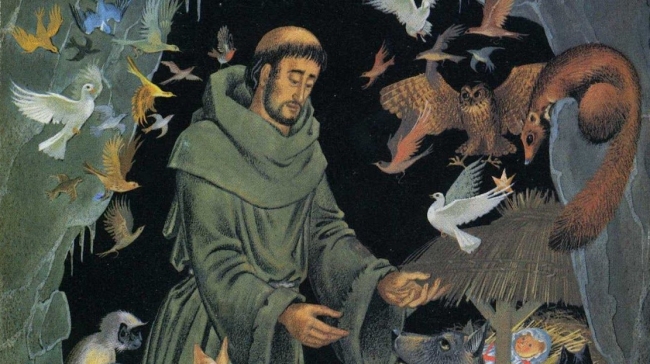 NEXT
In honour of St Francis of Assisi
Friday October 2nd - 9pm CET
Join Me this Friday for a Notre Dame de Sophia Mass in honour of St Francis of Assisi.
The example of this gentle saint reminds of the glorious relatedness of all of creation, of the expression of divinity through the elements: sun, water, clouds and air, fire and light, darkness and earth. By his humble service he was one of the greatest pinnacles of humanity. On his day we say blessings for animals and are reminded that our own animal nature may be seen in the lives of animals, and that kindness toward animals is not insipid sentimentality but necessary for the wholeness of Being.
Notre Dame de Sophia Masses are held every Friday at 9pm. Check the website for upcoming Mass schedule
Register HERE for your Live call-in details and to receive the recording:

Click here
NEW!

Soul Oracle Sessions with Anaiya
Soul Oracle Deep Dive - £55
Plunge into your Soul with Anaiya, as she takes you on a journey into the absolute beauty and fierce love that You Are. Through her recorded voice, sent to you via email, she acts as Oracle, surrogate and mid-wife between here and there. She communicates what is needed for this here and now moment. As Anaiya gazes upon you or listens to your voice, in deep silence, openness and trust, incredible words come. Words from the country you were born into, unspoken words from your family, departed loved ones, words from generations to come, words from your soul family, and words from your self. If you are asking for a deep, immersive communion, a soul-to-soul transmission, a message from the shrine of your heart - then this avenue would serve you very well.
Before every session, there will be an opening prayer. Anaiya often offers a couple of transmissions and 'homework' as an aftercare gesture.
You are invited to share a photo(s) of yourself, along with a voice recording as an addition if you like. Please send onto anaiyasassistant@gmail.com.
Once received, we will confirm with you, and your recording will take between 5-10 days for delivery.
Read more and register here:

Click here
Soul Oracle In-Person Session - £55
You may prefer an in-person session on Zoom: Anaiya will work more as a sister, mother, or elder, who catches glimpses and sounds of your soul and can recall a certain range of insight. She will speak all that she senses within your soul and the many reasons you are here at this time. Perhaps the challenges you face and the medicine you bring. Anaiya will be open enough to serve whatever needs to come through.
Before every session, there will be an opening prayer. Anaiya often offers a couple of transmissions and 'homework' as an aftercare gesture.
Once booked we will be in touch with you to confirm a date. Please email anaiyasassistant@gmail.com for any queries.
Read more and register here:

Click here
NEW! WORDS OF WISDOM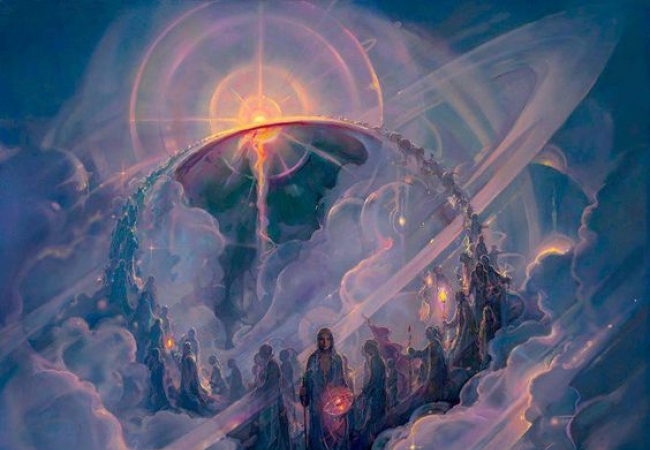 144 Soul Reasons To Go On
November 11th, 9pm CET - £11
On the day of 11/11 let's welcome our 144 allies, ancestors, angels and elementals who personally and intimately 'hold an account' of who we are, where we came from and where we are surely going.
This call will be more of a resonant inner space transmission where we come into contact with these 144 soul oracles who no doubt will bring great wisdom and heart widening astonishment. Be restored dearest friends, be replenished, know the magnitude of our great being.
There are a whole host of others within, all gearing up for this extraordinary reunion. Perhaps, now is the time to discard our sense of aloneness, all-one-ness, ... because we are not one, we are many. Be unified and genuinely ready for the last months of 2020.
Read More and Register HERE for your Live call-in details
and for a replay to sent to you via email shortly afterwards:

Register here
NEW!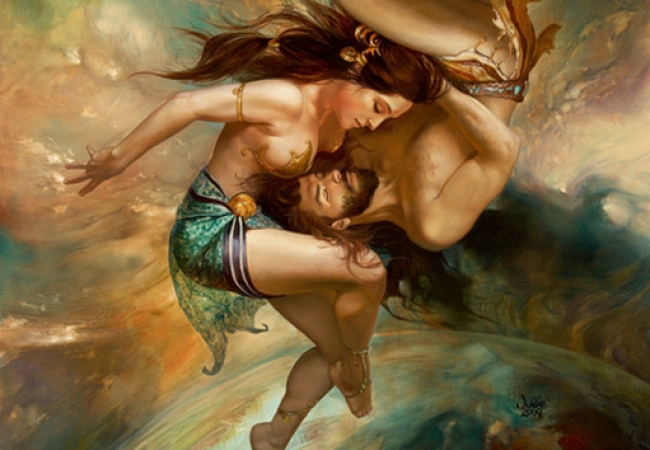 Twin Flame Oracles
14 Soul Stories That Rekindle Our Love
Starts 15th October, 9pm CET - £55
Individual Episodes also available!
Beginning on the 15th October, I am starting a series of 14 Soul Stories That Rekindle Our Love. And when I say love, I don't mean romantic or sentimental love - I mean the big one, the Absolute One, the willingness to walk through flames kind of Love - which I believe is Key for this time. How do we do this when faith is so battered or masked with lip service? How do we access the Absolute Love when so many have lead us astray? How do we dare access this kind of love, when so, so many are pussyfooting around on the sidelines - utterly terrified to dare to put one toe in.
I think I have an answer!
Storytelling... stories oozing with this Absolute Love. Stories of real people, doing real things, that totally destroyed and recreated paradigms, empires, movements, art, medicine, literature and societal behaviour. There is nothing more powerful than a couple inspired by Love. Problem is, we think this love belongs to us, the couple. As long as the couple is okay - life is good. But the couples I want to introduce to you (and bring to life) would never have settled for such low ambition and cheap loose change.
These couples, would if they could tear open their hearts and open their arms to the world, light and/or dark and blaze with Reality.
Cleopatra and Antony
Sheeba and Solomon
Catherine the Great and Grigory Potemkin
Lancelot and Guinevere
Tristan and Isolde
Orpheus and Eurydice
Pyramus and Thisbe
Yeshua and Mary
Salim and Anarkali
Mary Godwin Shelley and Percy Shelley
Shah Jahan and Mumtaz Mahal
Odysseus and Penelope
Heloise and Abelard
Cliohna and Ciabhan
This time, for so many, is a time of enormous challenge with the sense of an unknown future ahead of us. Most of the time we are in our heads, fretting and worrying - sending our stress levels soaring. But I want to remind you of something. I want you to lay back in the velvet folds of our sacred remembering of those powerful unions who birthed golden ages and brought timely destruction to those destined to fall. The words of these Oracles will permeate any blocks, disbelief, or wounding that could obstruct the union with our appointed other one. Whatever, whoever that may be.
Extract yourself, my beloved, from the chaos that begs your attention and turn 180 degrees toward the magnitude of love that wants to live within. The passion ignited with a Twin Soul is the combustion and charge that creates and destroys with great ease. Let these stories stir and rouse your memories, never lose sight of your longing.
We cannot *think* we know who or what the Twin Soul is. It might not be a person! Be open, be curious and eager to engage with this igniting process!
For 14 nights straight, I will bring this transmitting tales to your Sacred Heart. With exquisite ouchiness - the deepest realms of your heart will open. If it doesn't - if you do not cry with the utter grief and gratitude of FULL REMEMBRANCE - please accept your money back.
If you wish to feel that love again, and the force at which it fires up your whole system, purpose, direction and creativity - please register here.
These tales are both live and recorded, and yours to keep. You can listen at any time, although - they're best after dark. My wish - is that you are in bed already, and this is the last thing that you hear and fall asleep within.

These tales are both live and recorded, so listen at any time, although - they're best after dark. My wish - is that you are in bed already, and this is the last thing that you hear and fall asleep within.
Read More and Register HERE for your Live call-in details
and for a replay to sent to you via email shortly afterwards:

Register here
PREVIOUS STORIES with ANAIYA AVAILABLE
Anaiya's storyteller passion brings these 31 goddesses, holy women and mystics alive! These tales will enrich our spiritual practice and help us cultivate more courage, self-empowerment, and self-compassion for the challenges we face today.
These 'must-have' audiobooks will take you on a massive journey, where genuine memories, aspects of self, and deep knowing wisdom will surface.
Individual Episodes available on demand £11 each

SERIES I:
Goddesses, Holy Women & Mystics Audiobook
15 Episodes £55
Download or browse Series I here:

Click here

SERIES II:
Goddesses, Holy Women & Mystics Audiobook
16 Episodes £55
Download or browse Series II here:

Click here
NEW! - ONLINE COURSE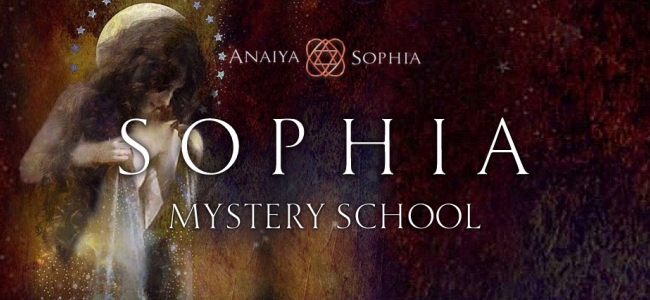 13 Week SOPHIA Mystery School
Every Sunday - 9pm CET - £144
For thirteen weeks, I will pour out the entirety of my current knowledge of Sophia, and the many times Her wisdom has appeared. There are 13 Earth Gates on our planet that correspond with her thirteen stars, and each gives a transmission. What is that connects the two? You do. Sophia's story is your story, and now we are very close to the last piece of this tale. Surely we want to be awake for it?
Join me for a full submersion for this wisdom that has been a long time coming. For those of us on the Magdalene, Gnostic, Cathar, Christ path - this is for YOU! Join us every Sunday for a one hour call.
Read More and Register HERE for your Live call-in details
and for a replay to sent to you via email shortly afterwards:

Click here
NEW! - MALIKA YOGA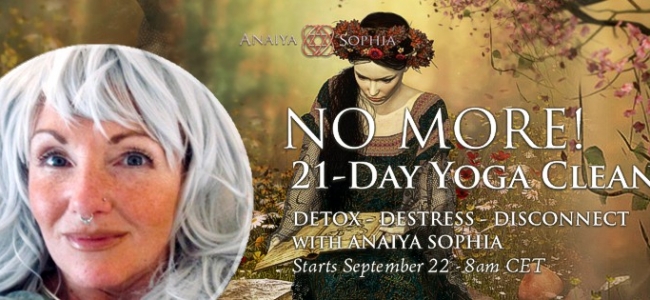 NO MORE! 21-Day Social Media Detox
Begins Autumn Equinox, September 22, 8am CET - £55
Join Me as we extract ourselves from constantly 'checking' the latest updates, opening horrendous video footage that shocks and shatters our nerves and from reading the most appalling comments between people. Surely it is time, to discard this toxicity, and step away into our 'actual' real world, and to come to ground and turn more toward the natural world as we strengthen our resolve, get clear, discover what is actually true and lasting, and turn this corner into something real and much more wholesome.
The world we once knew is not returning. We are heading towards a new and unknown future. Take this time for you to make sure that we can fully partake in what is now happening. To help one another stay AWAKE, Calm, Clear and to be able to bring through what is needed.
There will be movement, breath, dance, touch and prayer, but also giving ourselves the much needed time to go deep inside, individually and as a circle of friends. ALL the work will be centralised around one thing - recreating ourselves 'the other side' of the agenda. Once extracted - beauty, peace and clarity will return.
All 21 classes will be live and recorded. When you sign up, you will be given the link to the live class and then sent the recording afterwards.
NEW! Sophia Temple Oils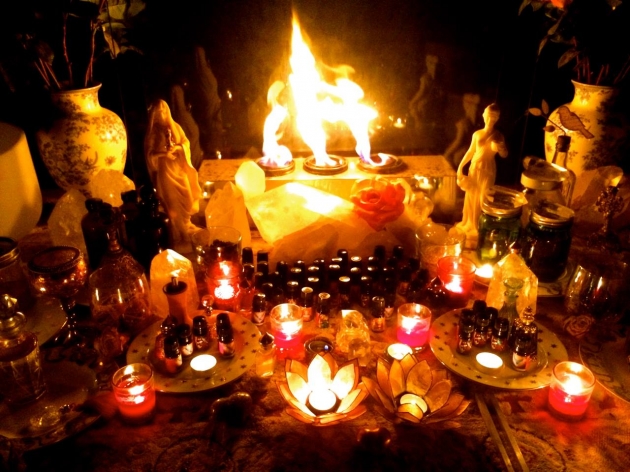 4 NEW Oils have been created and are ready to be shipped to your door!
A long, long time ago, there was an ancient tradition of women who worked with sacred oils for the highest good of All. These women were called Myrrhophores, also known as myrrh-bearers or mistresses of the oils. They were priestesses of an even older order whose time has returned and is with us once again...
Myrrhophore
High Priestess
Oracle
Shamaness
Fierce Feminine Rising
by Anaiya Sophia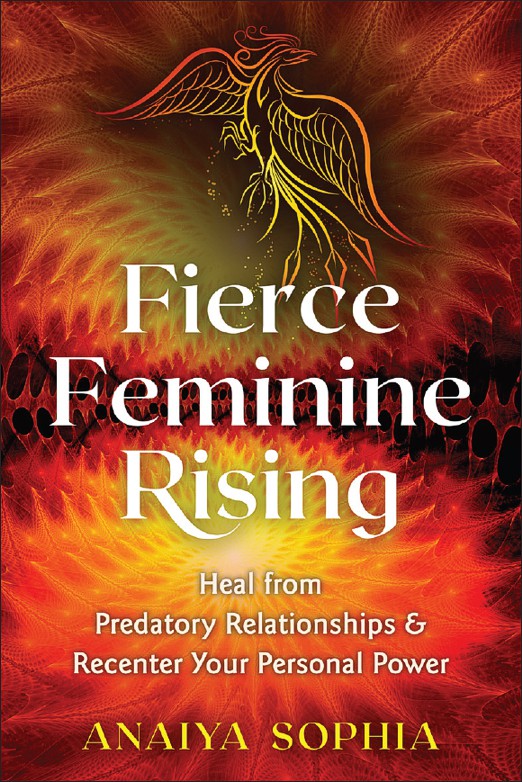 Praise for Anaiya's new book:
Andrew Harvey, Author of The Hope: a Guide to Sacred Activism and Turn Me to Gold: 108 Translations of Kabir
"The 'real' Fierce Feminine lives life ablaze with shattering discrimination, deep passion, and heartfelt openness. Like a fiery phoenix, She is rising all around us. Anaiya Sophia's latest book captures a slither of this fire, yet it's enough to set your whole existence aflame. Don't just read it, allow the wild love of the feminine to inspire you to Sacred Activism."
---
Jill Angelo, Author Sacred Space: Turning Your Home Into a Sanctuary
"This is a galvanizing account of the dark feminine, passionate, wise and necessary."
---
James Twyman, NY Times Bestselling Author and Peace Troubadour
"Fierce Feminine Rising is without doubt Anaiya Sophia's greatest work to date. Every generation has its way-showers, who navigate the fringes of consciousness and bring it to us all. This is what Anaiya does best, but I never read a body of work so alive and transformative as this. This is her game-changer."
---
Pia Orleane, Ph.D., author of Nautilus Gold Award–winning Sacred Retreat: Using Natural Cycles to Recharge Your Life
"In blazing terms, Anaiya Sophia describes the cultural overlay of misogynistic beliefs that have etched damaging patterns into our view of who we are. Calling for integrity, accountability, and honor, the feminine force as described by Anaiya Sophia invites us to annihilate our shared enemy of the Dark Agenda through fierce love for ourselves, for each other, and for our planet. This may, perhaps, be one of the most important books ever written."
---
Lee Harris, Author of Energy Speaks and globally acclaimed Energy Intuitive and Transformation Guide
"Any fierceness Anaiya possesses is always in service to the power of love and healing. This work is her passion and her calling, and this book is her masterpiece. She has pioneered the energy and message of the fierce feminine for the past two decades, and this book is arriving at the perfect time in our world and will help usher in the next wave of empowered feminine leadership."
---
Linda Tucker, CEO of Global White Lion Protection Trust
"There are two God-given forces informing the Sacred Feminine. Sometimes, being gently Madonna-like is just not enough. The Lioness fighting for her new-born cubs with every fibre of her life-giving power: fierce, tactical, uncompromising and, yes, raging - for these desperate measures are her last resort. This is the wisdom and imperative behind Fierce, Fierce Feminine where Anaiya Sophia will not shut her heart down to shadowy industries and governing forces that believe their misdeeds and malpractice against our beloved planet will go unchecked. And guess what? Mother Nature is on her side."
Order YOUR copy NOW:

Click here
2021 RETREATS

Sacred Body Awakening Facilitator Training
Women-only - held in Anaiya's Home, Southern France
11th - 18th June 2021
&
13th - 20th August 2021
Welcome to a week-long training programme in Sacred Body Awakening with Anaiya Sophia in Southern France.
The Initiation of Sacred Body Awakening is where a woman comes into direct contact with the Sacred Temple Codes embedded within her body. This somatic, deep, slow process will open her to gnosis, revelation and wild ecstatic freedom. This bodily wisdom emerges from our sacred origins, freeing us of shame, guilt and awkwardness. Together, as a circle of women, we will learn to touch, ignite, sound, soothe, drop, soften, ease and heal.
One of the last women to embody these teachings was Mary Magdalene. She knew the 'ways' of opening the body to the primal source. She knew how to love with the whole of her body in ways that not only soothed the masculine; but also rebirthed him. Sacred Body Awakening comforts the soul, softens all that is rigid within and births the genuine restoration of trust amongst women.
This journey of sensual, somatic embodiment brings us into contact with our unspeakable purity. The slowness of the touch loosens up the mind, shakes off our mask, vivifies our sacred purpose and makes real our soul memories and reason for being here. This long-awaited union of the inner and outer parts of us explodes every sense of duality, as we discover our pre-verbal awakening into a divine being. Something the patriarchy has feared for a very long time, but the Sacred Masculine patiently longs and delights after.
This training programme will prepare you to receive the transmission that Anaiya carries. The purity, innocence and joyfulness of authentic wisdom are her hallmarks. By the time she has finished with you - you will be a polished representative of this Awakened Feminine Embodiment of Wisdom.
Receive Anaiya's full accreditation, certification and blessing to continue on this work.
Read more and Register HERE:

Click here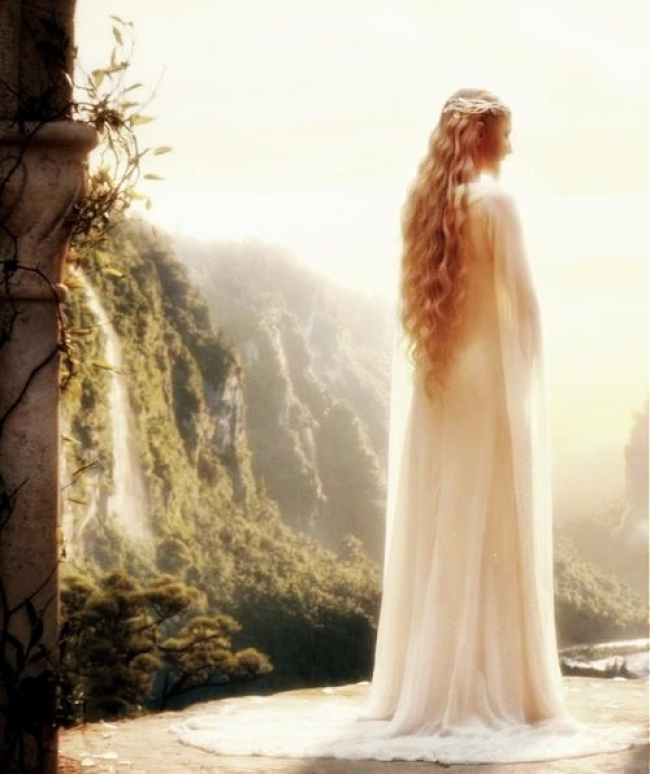 The Cathar Prophecy Retreat

Opening The Book of Love
16th - 23rd May 2021 - Southern France
&
17th - 24th July, 2021 - Southern France
For Men and Women, Anaiya & Pete's Home, Southern France
Welcome to a week-long life-transforming Upotia with Anaiya Sophia & Pete Wilson in Southern France.

There is a Cathar Prophecy that was spoken by the last known Parfait, Guilhem Belibaste, moments before he was interrogated and burnt at the stake in the Occitan region of Southern France,1321. This prophecy spoke of how 'we shall return again, in 700 years when the laurel turns green'. That was 699 years ago. 2021 will be the fulfilment of that prophecy - and this gathering is to come together not to learn anything, but to remember - everything.
Many have been called to this region, and many more will follow. You will just know if you are one of these people. The local people say it was Mary Magdalene that brought the 'spirit' to Gaul (France) all those years ago, along with John the Beloved, the two of them transmitted the heavenly message of Love, Grace and Truth. It is said that the people of Occitania, were in a constant state of celebration, they never wore shoes, and the light of a thousand suns shone in their eyes. The mountains and meadows soaked up this merriment, this heavenly cheer and held its transmission in the land. This region is calling you now - and this day together is to Remember, Prepare and Baptise again - into the Way of Love.
FOR SALE!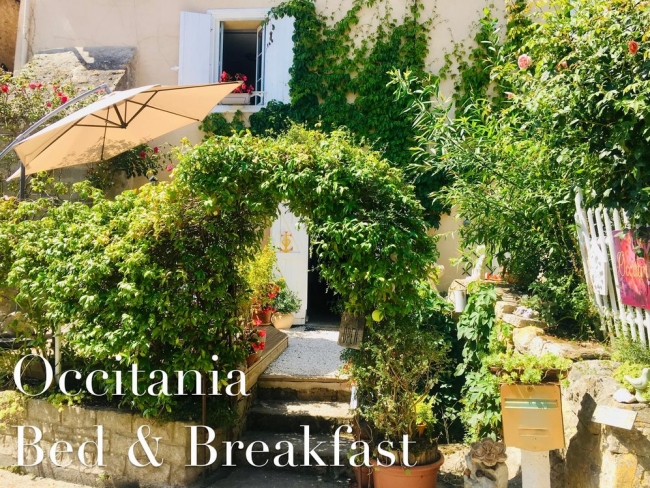 Occitania Bed & Breakfast
Yes - our most-cherished home is for sale (along with the whole business, concept and database)!
View our property sale listing - click here
YES! You can come and stay with us! We can also be your guide for the day, taking you to some of the sacred sites in our 7-seater VW, or perhaps walk with you through the ancient network of pilgrim routes and Cathar pathways. Maybe an overnight stay in a cave is more of your calling? Or a day with Anaiya, receiving a Sacred Body Awakening?
Check Out our Sacred France: The Other World video
A mystical forgotten world awaits you at Occitania!

Click here
LATEST SUMMITS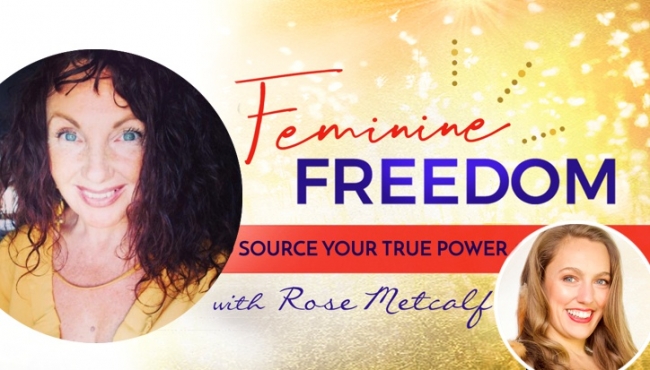 Feminine Freedom
Join me and over 20 Top Transformational Teachers for a Virtual Wellness Retreat hosted by Rose Metcalf as we give you real ways to create abundance in every area of your life and allow that little voice to speak up and how to use the challenges of this year to fulfill your destiny.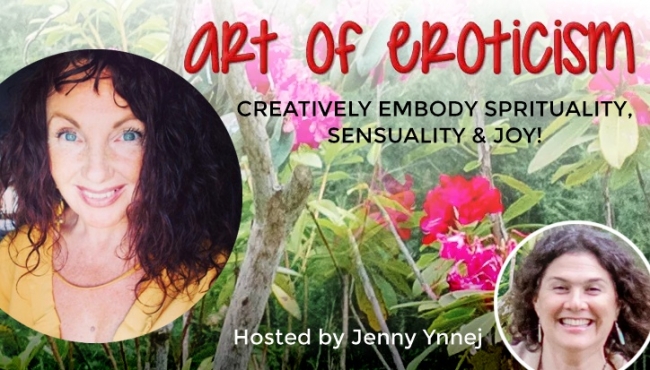 Art of Eroticism
Ready to Embody Spirituality, Sensuality and Joy? Are you INSPIRED, but not taking committed action? Join me with host Jenny Ynnej as we share wise women wisdom, research and practices...
LATEST VIDEO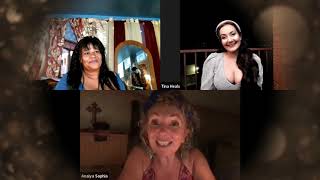 Return of the Sacred Virgin Priestess
with Anaiya Sophia, Ckiara Rose and Tina Heals. The original whore was a priestess, the conduit to the divine, through whose body one entered the sacred arena and was restored...
LATEST PODCAST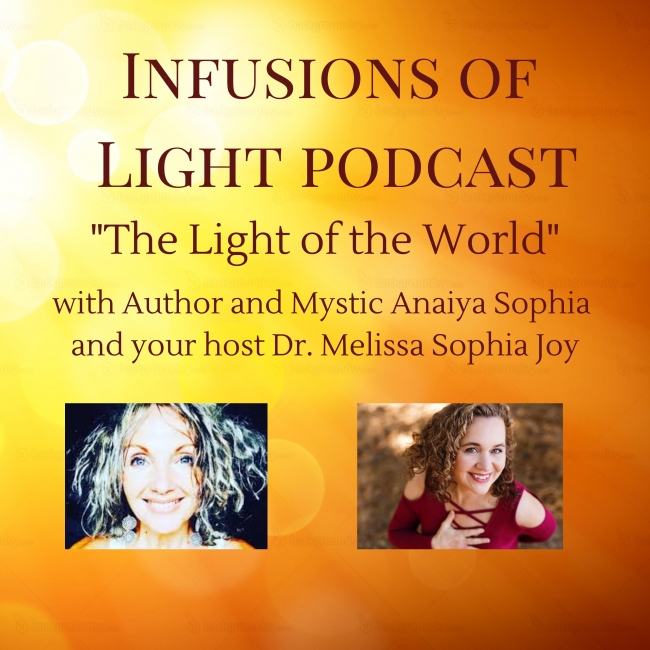 Infusions of Light
Infusions of Light Podcast "The Light of the World" with Author, Mystic, and Storyteller Anaiya Sophia and host Dr. Melissa Sophia Joy
A really sensitive and moving conversation where we discuss:
How the chaos in the world is forcing us into an enlightening process and what this process actually looks like.
How acknowledging our agreement to be here, as well as aligning to what is ours to do; helps us feel stability, joy, and harmony.
Connect to the power of Sophia Holy Spirit, and feel how her energy offers divine safety which supports us through these challenging times.
How the Cathars offers us potent wisdom in helping us navigate what's happening in the world today. And, how this sect has a powerful prophecy for our time.
LATEST INTERVIEWS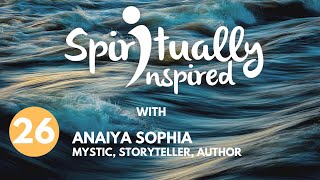 Spiritually Inspired
...with Anaiya Sophia, mystic, storyteller, and author.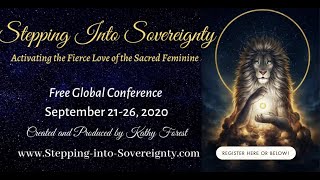 Stepping Into Sovereignty
Presenter Kathy Forest with Anaiya Sophia talking about how to step into our Sovereign power and activating The Fierce Love of the Sacred Mother.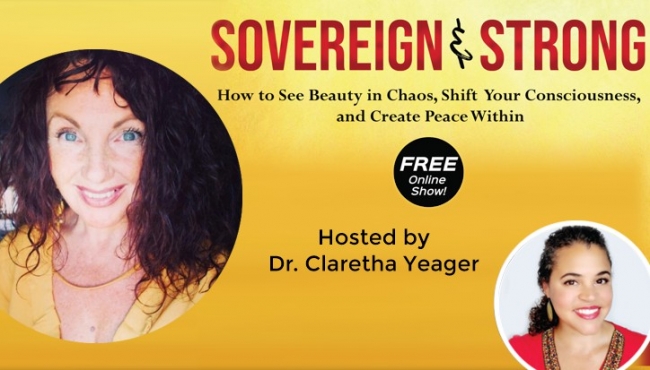 Sovereign & Strong
Anaiya talks with host Dr. Claretha Yeager sharing knowledge, wisdom, and practices to help you navigate your path, see beauty during transformation, expand your mind, and stay in your heart
My dearest friends, thank you for reading until the very end. I hope there is something here that could comfort you during these uncertain AND gracious times.
With Open Heart and Full Trust,
Anaiya
About Anaiya

Anaiya Sophia is an independent mystic of an almost forgotten faith and a teacher of Kundalini Yoga. She carries an Oral Transmission from the Sacred Feminine Mysteries which she weaves into all her gatherings. This mystical tradition is a continuous lineage with the Feminine Principle that throughout the centuries has preserved its spiritual dignity, without need for permission or recognition from any other source. Anaiya breathes the Wisdom of the Feminine Principle into the transformational processes we long for.