GBP £ 70.00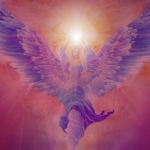 Receive All 8 Path of Sophia Transmissions
The Path of Sophia
The Rose Knight is read alongside this course
The Path of Sophia is the Gnostic story of how the feminine half of God fell to earth to save Her children and the deep epic journey She went on to regain Her own Divinity and return to the Godhead. In essence, Sophia's story is our own. Her journey through the darkness towards the Light is our own soulful longing to return home. Read more here.

In the Gnostic tradition, there are seven main archons (rulers) on earth that tempt and tease the soul into submission. We find similar references with the seven sins. The seven prayers within this series, are based upon the initaitions the Holy Sophia both experiemnced and embodied.  Once through the experience, these aspects of being became her own signatory essence.  Forsaking herself, she faithfully followed the truth of her heart, and reclaimed her divinity.
The Path of Sophia is a self - initiatory process. At the outset, you shall receive all the transmission recordings and reading material for the whole process. We shall arrange with you the dates on which you receive each of transmission. Then during the process,  you are encouraged to guide your own process, journal, self reflect and follow any other guidelines as laid out in the material.  All guidelines are designed to equip you in hosting your own initiatory journey and feel safe yet challenged within your own sacred space. If needed, Anaiya and her colleagues are available for extra attention via email or Skype but please note these would be a separate arrangement to your course and cost extra. 
The Seven Prayers are:
Holy Womb        Holy Voice        Holy Heart          Holy Mind         Holy Purpose        Holy Desire         Holy Communion
Using the tender, graceful anointment of Sophia's prayers, we shall call forth the Logos (Holy Spirit) to mercifully heal the trigger and emotional wound that allows the archons to work through us. This is the feminine way to God, the path of tenderness, softness and vulnerability.

The first transmission will be The Holy Bride - this is the initiation transmission that sets the foundational vessel for this journey. This next transmission would be the Holy Womb, which is intended to transmute all negative and contracted forces within the womb and your sexuality. Including all forms of sexual and childbirth trauma and all forms of toxic and co-dependant relationships.

Our scorching desire is to seed, create and manifest a "Holy Womb'. To heal once and for all our past mis-adventures, and to step up to the table in our all our glory and 'know' that our womb is clear, honored and powerfully loving.
---
Path of Sophia
Individual Transmissions