Begin, when you are ready...
Join Anaiya on this 9-week journey to embody the consciousness of a fully awakened woman.
Igniting the Divine Fire of a Fully Awakened Woman.
There are nine psycho-physical portals that guard and guide the awakening of a woman's sacred sexual journey. This is the journey from the entrance of the yoni to the mystical feminine wisdom embedded within the womb. Every woman must take this journey at some stage in her life. The great depths contained within this journey are an important part of a woman's full awakening.
THE NINE GATEWAYS:
Entrance to the Temple:  Lips of the Yoni (trust)
Royal Red Rose:  Clitoris (discernment)
Fountain of Love:  G-Spot (innocence)
Lilith/Eve:  Cervix (voice)
Sun and Moon:  Ovaries (Connection to Mother/Father God/dess)
Paths of Light:  Fallopian Tubes (creative recognition and encouragement)
Outer Sanctum: Entrance to the Womb (Sacred Union)
Inner Sanctum: Gestation Spot (Sacred Purpose)
Holy of Holies: Veil between Spirit and Matter (Surrender)
But how do we get there, when an authentic sexual union is still in its infancy?  How do take a stand, and refuse the old ways, having faith and reason that a new potential is lying dormant within us?  By giving 'ourselves' the permission to open, speak out, ask for and receive the Divine Fire that is contained within this transmission. 
Sacred Gateways Online Journey includes the 9 Sacred Gateways Transmissions, weekly online calls and suggested practices, and PDF Manuals.
For too long women have sexually comprised and settled for less than they know themselves to be. We have now arrived at a time where this cannot continue.  For woman's sexual power is her spiritual awakening, and without that, there will be no evolution for women.  There is a living stream of consciousness that is edging us towards this shift. When you sign up for this course you are saying:
"Yes, I accept. Awaken me".
GBP £ 55.00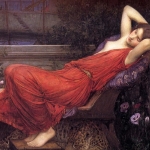 Receive all 10 Sacred Gateways Transmissions Only
A woman must become the Keeper of her Sexual Wisdom, and be prepared to be self-fulfilled, elegant and uncompromising. Only for the love of such a woman will a man give up the selfishness that keeps him from realising the principle of divine love that he is.  If we cannot take this journey with another - let us take it together. Spirit and Woman are coming together. Now is the time to remember our dignity, and to reach for the Higher Love.
A sexually conscious woman - is a fully awakened woman.
The last weeks with you and the other ladies were mind blowing and feminine awakening! You are such a gift for our sisters out there. To all sisters out there: if you want to re-connect to your femininity and start birthing your life - go for this seminar!
- Meerah Baum, USA
This training would serve:
The awakening of your Temple Priestess skills
The precise and accurate receiving of this feminine template
The Preparing of your sexual subtle anatomy to welcome another
The Preparing of your whole self to work with women and men
The healing of every kind of sexual guilt and shame
The liberation, healing and health that this quality of work brings – in abundance!
---
Sacred Gateways
Individual Transmissions