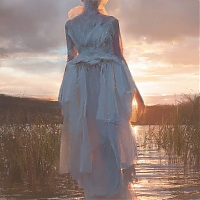 Miriam's Well: Unraveling the Mystery
Join me on this Full Moon (5/5/5) as we remember the Mystery of Miriam's Well at a time when worldwide water levels are dangerously low. Miriam's Well (Be'erah shel Miriam) is the name of the spring that miraculously provided water and accompanied the Israelites throughout the 40 years they travelled in the wilderness. The key to unravelling the Mystery of Miriams's Well is Praise. She is known for ecstatically praising and glorifying water. In this transmission, we will bring ourselves to our knees in a new kind of communion with water. There is an ancient custom to draw and drink water from a well or natural spring after Shabbat (this evening). This is based on the saying of the sages that the waters of Miriam's Well flow through all the wells and natural springs every Saturday night, and "anyone who encounters it and drinks of its waters will be immediately healed from all his afflictions. Therefore, they are accustomed to drawing water every Saturday night since they may chance upon the well of Miriam.
These Live and Recorded Transmissions are yours to keep as an audio file.