chatelaine,

Mystic and Author of Heart Opening Wisdom 

Aletheia Pistis Sophia carries an oral message that stirs the remembrance of a continuous lineage with the Feminine Principle that throughout the centuries has preserved its spiritual dignity, without the need for permission or recognition from any other source.  
"When you find parts of your genuine self, the great work is to hold on to them with the greatest dignity and not allow yourself to be swayed or coerced into those seemingly strong opinions that are all around us."
"The first thing we have to do is to get to know ourselves, again."
"When you're still holding the energy of a lover, there can be a tendency to redream the sexual union because it was fabulous in some way or redream the heart connection. But that redreaming embeds the template even deeper."
"We must stop trespassing our intuition. We do know what's going on. We can see the elephant in the room, and we must speak about it."
"When you open that door, what is most likely behind it is an uncomfortable but glorious truth."
"It's an achy, familiar, place to head for, where the woman has become so masculinised that when she feels that deep feminine touch, there is a simultaneous sadness because she realises how far she's come."
"Every single lover we've ever been with leaves behind an energetic templates, like a little postage stamp, that gets filed away in the matrix of the womb. When you're carrying so many templates, you start to lose sense of who you actually are."
"The connection made in Sacred Body Awakening is eternal. It's a very deep, very close, filled-with-goodness, lasting, sovereign connection with another woman."
—Aletheia Pistis Sophia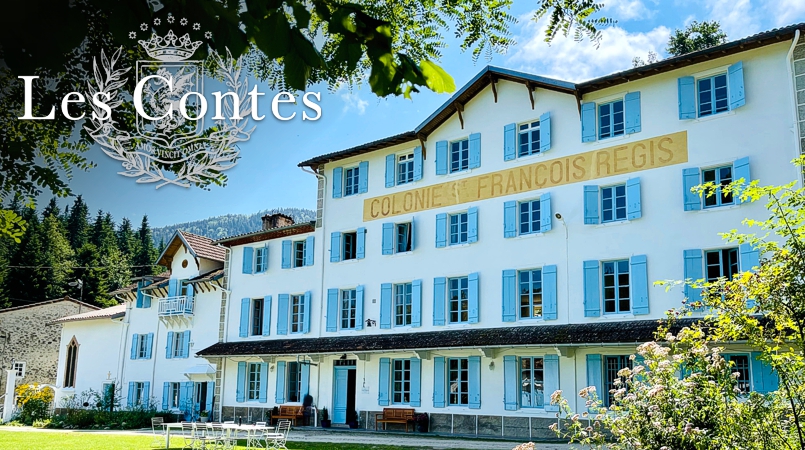 Stay with us as a B&B guest!
Les Contes - our B&B in Southern France
Bringing you closer to nature with Yoga, contemplation, organic homegrown food amid a mountainous backdrop drenched in history and healing power.
Les Contes is the last property as you climb your way through the towering gorge toward the village and chateau of Montsegur, known as the last Cathar stronghold. Surrounded by the Pyrenees mountains of "Occitan" France, Les Contes, is a place that gives back more than it takes.
Situated at the confluence of two rivers and beside La Source de Belisama, a holy spring, those that feel a strong resonance with the feminine especially that of Mary Magdalene will discover a place strongly rooted in her tradition.
Here is where you will find Notre Dame de Sophia, Our Lady of Wisdom, a chapel to the side of the house consecrated to the continuous lineage with the feminine principle, which these mountains have known since the beginning of time.
Visit us online:
Mystery School
Receive 12 months access to all past and forthcoming Transmissions and Activations for a one time payment of £144.
---
join ANAIYA to receive these TRANSMISSIONS
---
Events

SACRED BODY AWAKENING
FACILITATOR TRAINING
29th April – 1st May, 2023
The Shift - Budapest, Andrássy út 35, 1061 Hungary
Click here
June 21-28, 2023
Les Contes, Southern France
Click here
August 15-22, 2023
Les Contes, Southern France
Click here
10th - 17th November, 2023
Szent András Kastely, Szentandrás Bölcske mere 10, Hungary
Click here
Join Anaiya and other like-minded souls for a week-long training programme in Sacred Body Awakening with Anaiya Sophia in her home in Southern France.
Sacred Body Awakening is a continuum that keeps on going, changing slowly over time, and is cohesive with evolution.
This somatic, deep, slow process opens us to the revelation of a profound natural ability in our body where we discover that movement is the message and messenger from our ancient past and near future. Our body contains the Hall of Records, and some of us, remember how to access them.
Next 4 Upcoming Events
Click here for full Events list
What's Happening Now: