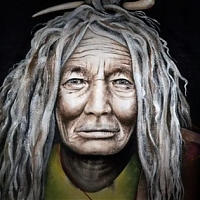 Ritual of Renewal: Cave of the Cailleach
Let's not resist winter's harsh barrenness and storms on this potent threshold instead of raging against the darkness - we must step into it.
Forgetting The Cailleach, we have created on a global scale the same false positivity that we can fall into in our personal lives. Her name means Veiled One and She is very old. No one knows for certain where She came from. When the Celts arrived in Ireland, The Cailleach was already there.
The Cailleach calls us to Her cave so we may undertake a ritual of renewal. As a healer, She diagnoses & heals emotional traumas, both individual & communal, by balancing the relationship between the human being & the spirits of the otherworlds. Do you feel ready to see through Her eyes the balance to be made at this time?