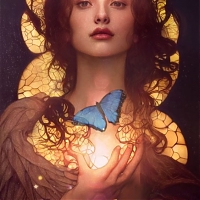 Speaking In Our Mother Tongue
Join me on this New Moon as we at first locate, then listen and lastly speak our first and original language learned at 'home' in supernal childhood and understood by the One. The Mother Tongue is also known as the first language, but of course, we are not referring to any language spoken on Earth.
The origin of the term mother tongue harks back to the notion that the linguistic skills of a child are honed by the Mother, and therefore, the language spoken by the Mother would be the primary language that the child would learn.
In this transmission, we will follow the same principles of understanding as we listen in the deep, warm dark, knowing that our Mother gave us a sacred language that she always hears, no matter what, no matter where.