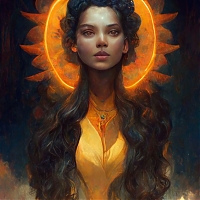 The Virgin Who The Forces Did Not Defile
Norea, the secret daughter of Eve, is a powerful feminist icon who rallied against dark patriarchal forces. In defiance, she burned down Noah's Ark, defeated God and whose descendants will save humanity. Unfortunately, Norea's firey feminine power was not mentioned in the Bible, but here, in Sacred Mystery School, we can hear her voice and know her once again.
Norea is a secret emanation of Sophia, along with Zoe, Eve, the Serpent, and Eleleth; these feminine forces constantly battle and triumph over the dark patriarchal forces of domination and control. Norea will reveal through Voice, Renaming and Movement how the Feminine consistently balances the dark. This is the transmission of wisdom she shares with us now.